We knew there is a mine around, and heard that the area is abundant in gemstones. We couldn't see them though. On our way back after that buzzing third eye meditation and after establishing orgonite-canyon psychic connection we saw gemstones EVERYWHERE!!! I couldn't believe my eyes, they were so many. Constantin asked me how do I see/find them, because he didn't at first. Then he started to see/find them himself, his third eye and crown were activated by my buzzing finger.
The canyon not only rewarded us with more psychic gifts and healing energy but showed us his babies - the beautiful "ulexite" gemstones, which we were allowed to take home. I thought these gemstones are selenite at first, they look and feel like, but not quite so. Again I was asking my higher self if this is selenite and didn't get the very firm "yes" answer.
Just before ending our hike we saw three hikers in front of us who were waving and waiting on us. I didn't remember seeing them before, so I was a bit puzzled. Hmm.. That must be something good I thought.
The hikers apologized mentioning they mistook us for someone else. Anyway they were really friendly, they asked about the throat chakra orgone pendant I was wearing, I mentioned about orgonite etc, and in reward they told me about this beautiful gemstone named "ulexite" found in the area.
Not only that, one of them gifted me with a big ulexite stone and told me that is really "precious" and mentioned few qualities of that stone. It was so funny that when I looked into his piercing eyes I could read his mind, he also said telepathically that this stone helps with clairvoyance. I kept holding the stone and couldn't take my eyes of it. I boosted and blessed that man thousand times in return.
When I got home I rushed to one of my gemstones books and guess where I opened the book? Right on "ULEXITE" page.
Ulexite feels a lot like Selenite to the touch but as you hold it, a sense of calm prevails and you can feel its energy at the Third Eye.
I was in the process of designing orgone intuition and clairvoyance orgone pendants and I knew it was something missing. Now I know, it is ULEXITE!!! Yay!!



Check out my new intuition and psychic development orgone collection.
More pictures from the Narrows here: http://www.natures-blessings.org/AnniversaryNarrows.htm
Few words about this amazing stone Ulexite from different sources.
http://www.spiritofisis.org/knowledge/crystal_files/ulexite.htm
Ulexite stimulates the third eye chakra, and is the crystal of vision. Ulexite facilitates accelerated development of clairvoyance, clairsentience, remote viewing, telepathic and channelling abilities. Ulexite helps one read the energy of another with clarity and precision. Ulexite promotes creative endeavours, leading to moments of pure inspiration.
Ulexite connects one to soul consciousness, collective consciousness and cosmic consciousness, whilst decoding the visions received.
Crystal Healing Uses
Ulexite has been used to treat disorders of the eyes.
"Ulexite acts upon the third eye to open interdimen-sional gates, so one may see and interact with beings from the higher planes"
According to Melody's book, "Love is in the Earth", Ulexite helps one to see into others, reading thoughts and evaluating words", brings us solutions to problems, enhances positive business activities, helps us to interpret dreams and encourages creativity.
Ulexite is also known as "TV rock" or "TV stone" due to its unusual optical characteristics.
http://www.cs.uwaterloo.ca/~shallit/ulexite/tvstone.html
"When a slab of this white fibrous mineral is polished on both sides and placed on a sheet of newspaper, the words seem to `leap'' to the top of the stone --- hence the nickname, television stone." See picture bellow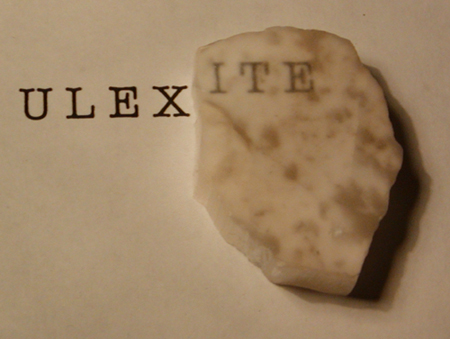 Another neat property of ulexite was discussed by G. Donald Garlick and W. Barclay Kamb in the 1991 issue of the Journal of Geological Education. If you hold a polished slice right up to your eye, and look at a point source of light, you see concentric circles of light. This effect can also be produced by shining a laser pointer at a slightly oblique angle through a piece of ulexite. See Figure 2